Get it all, do it all on your Emerald Card®.
Why stop at getting a refund on an H&R Block Emerald Prepaid Mastercard®? Use it as your everyday account, pay bills , and make purchases anywhere Debit Mastercard® is accepted.
Fast and easy features you can bank on.
Get your money quickly.
Fast access without check-cashing fees  — get your refund and payroll direct deposited  onto your Emerald Card.
Use the check-to-card service.
Through the MyBlock mobile app , you can load check funds into your Emerald Card Account, with options for Funds in Minutes (fees apply) or Funds in Days (no fee) .
Enjoy access to cash.
Get cash back with purchases from retailers and at ATMs  anywhere in the U.S. that Debit Mastercard is accepted.
Manage all of your money.
Add payroll , unemployment or government benefits, cash  and checks  to your Emerald Card account all year long.
Set up bill pay. 
Pay bills from your Emerald Card, and manage your account from any device.
Put away for the future.
Set aside funds for a rainy day within your Emerald Card Account.
Keep your money safe.
An H&R Block Emerald Card is safer than carrying cash. The funds in your Card Account are insured by the FDIC up to the maximum amount permitted by law. Plus, the Mastercard Zero Liability policy protects you from unauthorized purchases, theft and fraud .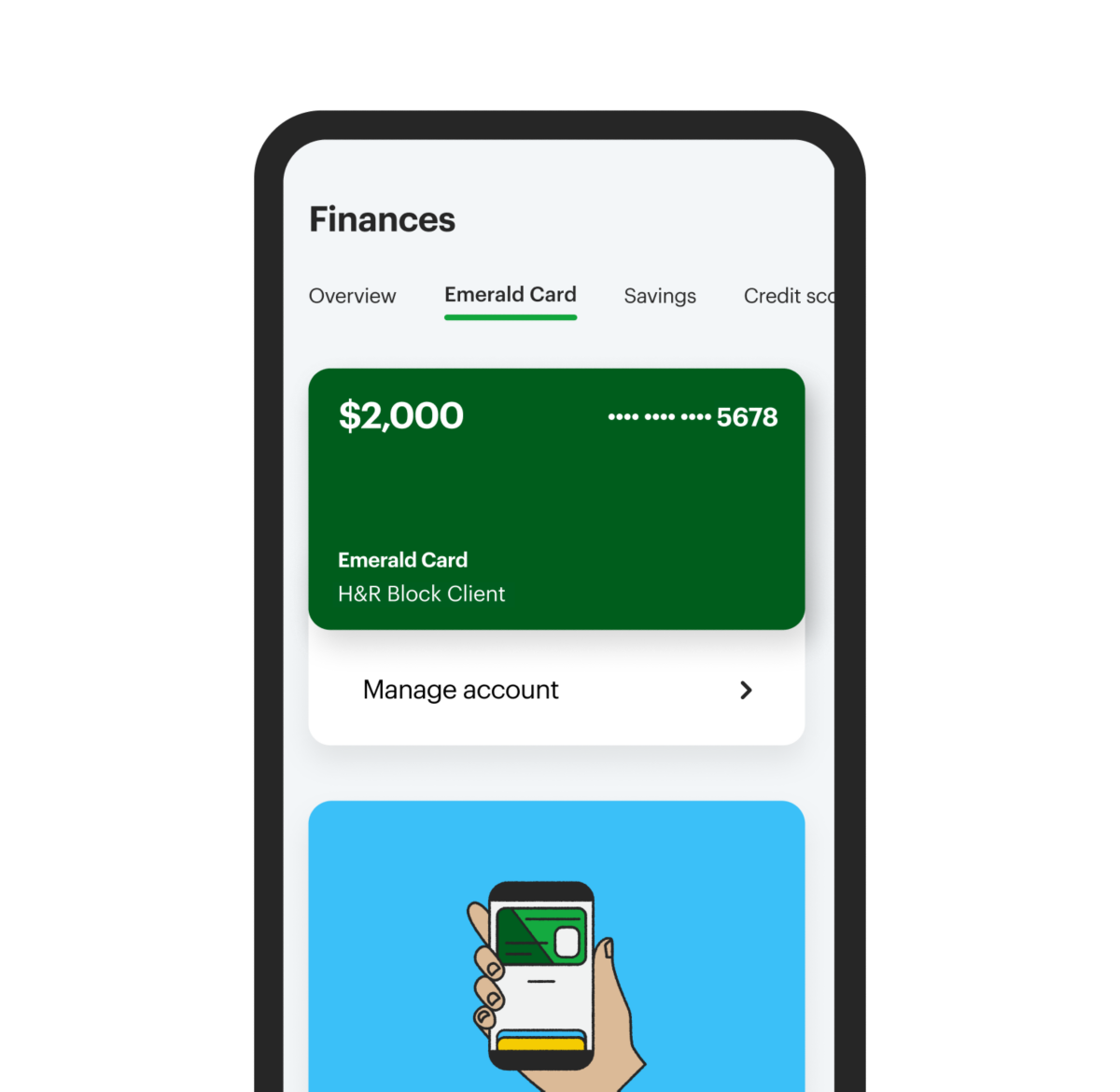 Manage finances with MyBlock.
The redesigned MyBlock app is your H&R Block account home. Stay up to date on your Emerald Card. Check your balance, pay your bills , set up card load, and more. It's easy.
Cardholder Agreement Update

Effective immediately, your Emerald Card Cardholder Agreement has changed. You can find the full updated terms here.

MetaBank, N.A., the issuer of the Emerald Card, is being appointed as custodian of your funds in your Emerald Card account. As custodian, MetaBank is able to place your funds at one or more FDIC-insured Program Banks. See Section 4 of the Cardholder Agreement for full details on MetaBank acting as custodian.
All Program Banks are FDIC insured, so your funds are still eligible for FDIC insurance up to the limits set by the FDIC. In the event that a Program Bank fails, your funds will be aggregated with any other funds you have on deposit at that institution to determine if the FDIC insurance limit of $250,000 is met. To assist with calculating your FDIC deposit insurance coverage, the FDIC has an Electronic Deposit Insurance Estimator available.
No, nothing will change about how you use your card, how you log into Emerald Online, etc.
You should immediately transfer or spend all the funds in your Emerald Card account. You may also contact customer service at 1-866-353-1266 to close your Emerald Card account. You can receive a check or ACH of your remaining funds for no fee.
The Emerald Card is a reloadable prepaid debit card for direct deposit of your tax refund that can be used year round with easy access to your funds. The Emerald Card can be used anywhere Debit Mastercard is accepted. You can add money to your Card account at any time by receiving a direct deposit  (payroll, unemployment, or government benefits), loading a check  through our MyBlock mobile app, transfering money from a linked account  or adding cash at participating retail reload locations. 
You may apply at your nearest participating H&R Block tax office or online while using our digital tax preparation product.
You can view 12 months of statements and your recent transactions by logging in at Emerald Online. You can also obtain 24 months of written history at no charge by calling 1-866-353-1266, or by writing us at Cardholder Customer Service, PO Box 10170, Kansas City, MO 64171.
Yes, an individual cardholder can log in to Emerald Online through their MyBlock account to authorize the addition of a joint cardholder and allow that person to apply during the same online session. An individual cardholder could also authorize the addition of a joint cardholder in the tax office, and that person could present a driver's license or another accepted form of identification and apply while in the tax office with the individual cardholder. If the new individual is approved, they will share equal ownership of the funds in the Card Account. Approved joint cardholders who applied through Emerald Online will receive a new personalized Card in the mail within 7-10 business days. Approved joint cardholders who applied in the tax office can receive an instant-issue Card immediately or they can order a personalized Card to be mailed to them.
Yes, the funds in your Emerald Card Account are FDIC insured to the maximum permitted by law. For additional information, go to FDIC.
Please contact us as soon as possible at 1-866-353-1266 to minimize your losses. If you contact us within 2 business days after you learn of the loss or theft of your Card, you can lose no more than $50.00 if someone used your card without your permission. If you contact us about a fraud claim and request a Written Confirmation of Fraud form, one will be provided to you. Or, you can submit your fraud claim in writing to Cardholder Customer Service, PO Box 10170, Kansas City, MO 64171.
No. You are not allowed to exceed the available amount in your Card Account. However, if your Card Account balance should ever become negative, you will be responsible for repaying the amount of the negative balance.
Have questions about the H&R Block Emerald Card?
Access the Emerald Card Cardholder Agreement to learn more. You can also contact us at 1-866-353-1266. There is no charge for contacting us.
H&R Block Emerald Prepaid Mastercard® is issued by MetaBank®, N.A., Member FDIC, pursuant to license by Mastercard International Incorporated. Mastercard® and the circles design are registered trademarks of Mastercard International Incorporated.