Women's equity is the name of the game.
The numbers don't lie. Division 1 male athletes are outearning Division 1 female athletes in NIL compensation by a long shot. H&R Block is committing $1 million this year to help level the playing field.
We believe everyone should get every dollar they deserve.
H&R Block is championing equity in college sports by committing $1 million in sponsorship support and tax prep assistance to female athletes. We're teaming up with basketball stars Caitlin Clark, Zia Cooke, and other female college athletes lending their voices to this important cause.
University of South Carolina
Zia Cooke
Zia's not just helping change gender inequity in sports. She's an absolute game-changer on the court, leading her Gamecocks to the NCAA 2021 Final Four, and earning multiple SEC Conference honors along the way.
"H&R Block is standing up for female student athletes by not only supporting us financially, but making sure we're set up for long-term success."
University of Iowa
Caitlin Clark
There's not a shot Caitlin can't make. Case in point: she's the fastest Big 10 women's basketball athlete and eighth NCAA athlete to meet the 1,000-point mark in 40 games or less. And, she's scored five triple-doubles so far this season. It's safe to say this deadeye Hawkeye is poised to achieve even greater success on, and off, the court.
"It's nice to have a brand as well known and trusted as H&R Block supporting me and other female student athletes. Together, we're starting a ripple effect — bringing awareness to women in sports."
A team effort.
We're helping change the game by supporting an impressive lineup of female athletes across women's collegiate sports.
University of Georgia
Jaiden Fields
Jaiden is a recipient of the Liz Murphey Women's Athlete Scholarship Endowment, and serves on the University of Georgia's Student-Athlete Advisory Committee. She's also a tough out at the plate, sporting a .636 batting average in the 2021 NCAA tournament and helping the Bulldogs earn a berth to the 2021 Women's College World Series.
University of Southern California
Audrey & Nicole Nourse
It's easy to recognize Audrey and Nicole Nourse, but hard to tell them apart. These identical twins played integral roles in USC Beach Volleyball's 2021 NCAA National Championship win, and are currently teammates on the U21 USA Beach National Team. Their influence has also spiked off the court, with 130,000+ Instagram followers and are co-founders of a non-profit media platform that uplifts the voice of student athletes.
UCLA
Reilyn Turner
Goal scorer. Goal achiever. As a standout UCLA soccer player and U.S. Youth National Team member, Reilyn is a CONCACAF Champion, Pac-12 Champion, and earned First Team All-Conference honors as well as Top Drawer Soccer Best XI. She's also the first college athlete to score an NIL sponsorship with Nike, where she uses her platform to advocate for racial equality and women in sport.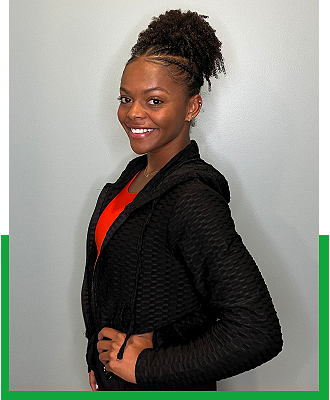 University of Florida
Trinity Thomas
Trinity's the physical embodiment of the word "perfection" and a proud female student athlete. Only 12 women in the history of NCAA gymnastics have achieved a perfect ten on every event, and Trinity has done it twice. This breakthrough 18-time All-American star is also the first African American gymnast to achieve the Gym Slam, an accomplishment of scoring a perfect 10.0 on each apparatus.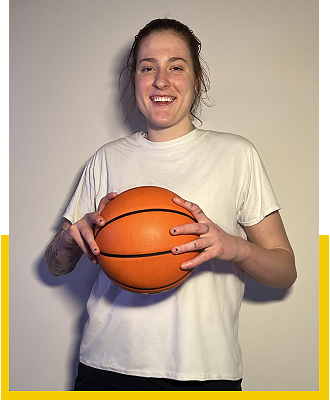 University of Oregon
Sedona Prince
A Team USA gold medal winner, Sedona Prince is not your average basketball player. At 6 feet 7 inches, she's one of the tallest women to ever play for the University of Oregon, but that's not the sole reason people look up to her. Sedona's an outspoken advocate for student-athletes, a driver of change in the LGBTQ+ community, and a relatable, quirky, and smart TikTok star with over 2 million followers.
University of Texas
Lauren Burke
Lauren is a heavy hitter for the Texas Longhorns softball team, where she led off 2022 in Softball America's Preseason Top 100. From her clutch performance in the College World Series to multiple Big 12 Player of the Week honors, Lauren plays to win. She goes to bat for other women student-athletes, using her growing social media presence to help them navigate and find success in the NIL process.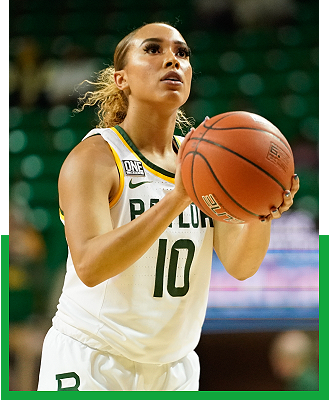 Baylor University
Jaden Owens
Jaden is a junior at Baylor University, majoring in communications, and a former player at UCLA. She was the 14th overall player in high school's 2019 ESPNW Hoopgurlz recruiting rankings, and played all four seasons on varsity at Plano West, averaging 16.5 points, 4.0 assists, 3.3 rebounds and 3.0 steals as a senior. In 2019, she was named a McDonald's All-American and made the Jordan Brand Classic All-America team.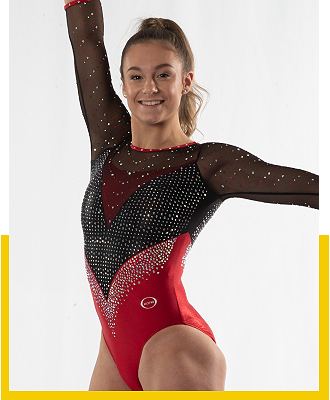 University of Utah
Grace McCallum
Grace is an Olympic Gymnast who helped Team USA bring home a Silver Medal at the 2021 Tokyo Olympic Games. Since then, she's continued her competitive career as a student athlete at the University of Utah, where she has helped lead her school's gymnastics program to a top 5 national ranking in just her freshman season. She was born and raised in Minnesota as one of seven children.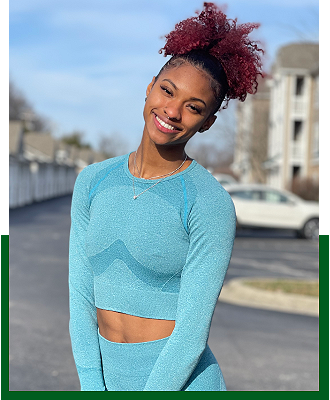 University of Kentucky
Masai Russell
A four-time first-team All-American senior track and field star at the University of Kentucky, Masai placed among the top 15 at the 2021 Olympic trials in the 400m and 60m hurdles. She's earning her undergraduate degree in Sports Communication and is a social media influencer and vlogger passionate about athletics, beauty, fashion/style, and female entrepreneurship.
University of North Texas
Sarah Fuller
Sarah Fuller is a Division 1 college soccer player who made history in 2020 by becoming the first woman to play and score in a Power Five conference football game. She's a three-time SEC champion, is currently the starting goalkeeper for her university, and is pursuing her master's in Sports Entertainment Management. This summer, she will play pre-pro for Minnesota Aurora in the USL W league and continue training for the Boston Marathon.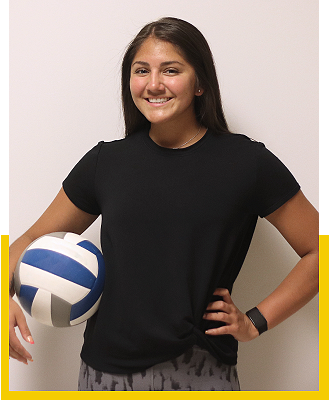 University of Nebraska
Lexi Rodriguez
The ultimate team player and clutch performer in one, Lexi stars for the University of Nebraska volleyball team. Her heroics helped the Cornhuskers advance to the 2021 NCAA Women's Volleyball National Championship, and along the way she earned National Freshman of the Year honors by the American Volleyball Coaches Association, and was named to the AVCA All-American First Team.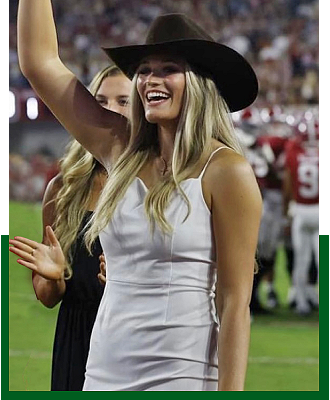 University of Alabama
Montana Fouts
A true fireballer on the mound, Montana is an All-American pitcher for the University of Alabama softball team, and member of the 2022 USA Women's National Team. An SEC Player of the Year, she also made a name for herself by throwing a perfect game in the 2021 Women's College World Series. With several accolades under her belt, you'll find her hunting dog, Dixie, by her side when she's off the field and taking in the great outdoors.
UCLA
Jordan Chiles
Jordan vaulted to gymnastics stardom by landing a silver medal at the 2021 Tokyo Olympic Games, where she famously teamed with Simone Biles to form the dynamic duo, "Biles and Chiles." She embarked on the post-Olympic "Gold Over America Tour" in Fall 2021, featuring an all-star team of female gymnastics champions. Jordan joined the Bruins gymnastics team in 2021 where she continues to compete with and advocate for female athletes.
Duke University
Emily Cole
Author. Content creator. Foodie. Duke University junior Emily Cole goes the distance in everything she does, including leading her school's Track & Field and Cross Country teams. Winner of back-to-back ACC titles in 2021 outdoor and 2022 indoor track, she's on pace to accomplish even more, starting with her own sports nutrition book to help empower young athletes on the field and in the kitchen.
Kansas State University
Ayoka Lee
When it comes to dominating on the court and in the classroom, it's hard to find anyone else who measures up to Ayoka. Standing tall at 6 feet 6 inches, she's nearly unguardable on the Kansas State basketball team. Ayoka's dedication to winning pays off on the court, as she holds the NCAA record for number of points in a single game, and is ready to take on any challenge – no matter the pressure.
University of Oklahoma
Jayda Coleman
Jayda's not your average women's softball player. In her freshman year alone, she was named 2019-2020 Gatorade National Player of the Year, NFCA 1st team All-American, a 2021 Freshman of the Year finalist and 2021 NCAA National Champion. In between launching home runs, she launched her first clothing collection, and became the first athlete from her university to earn a multi-year NIL endorsement.
A winning tax strategy for student athletes.
We're bringing our tax preparation and filing expertise to college athletes to help them navigate their changing financial circumstances. New rules and new income mean new tax considerations, and we're here to help.
Helping all college students file with confidence.
Winning in the classroom is hard enough. It's why we help to make tax filing for college students as easy as possible.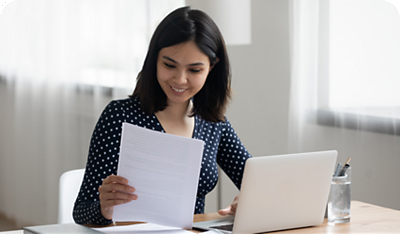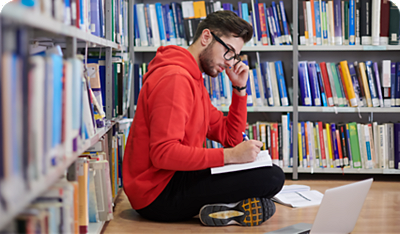 We can help you game plan for your taxes.
Do your own taxes any time, anywhere, on any device. Questions? Our on-demand tax experts can help.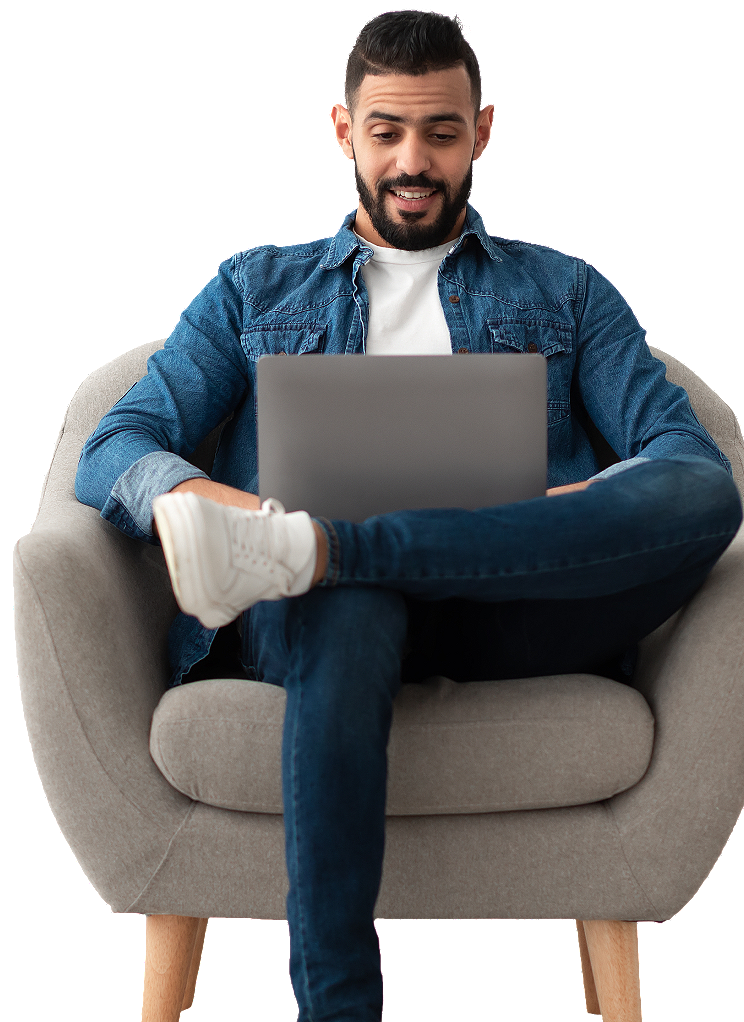 Get expert tax prep virtually or in person. Gather your documents and your tax pro will do the rest.